We are a company that develop and promote innovative technologies for a sustainable future. Like most of you who are reading this, we care for our environment and certainly, we care for you.
​
Many of us have the impression that being environmental friendly means use less energy. In some cases, it means we have to compromise between our personal comfort and our environment. We struggle to be care for our environment and eventually, we give up and turn on our air-conditioner to cool us down. We cool the whole bedroom while we only sleep on our bed.

​​Hundreds or even thousands of dollars are being waste annually per household on cooling and heating up the unnecessary. Your furniture in your bed room, your bookshelves, your wardrobe and even the clothes in your wardrobe are being cooled.

​​Most of us knew that precious energy are waste to cool the unnecessary but could not do anything about it. Today, you can!
uCoolz is proud to introduce a technological breakthrough that cools your bed instead of cooling the whole bedroom. uCoolz mattress pad is able adjust the temperature of your bed between 21°C to 48°C and maintain a comfortable temperature throughout the night. The temperature range depending on several factors, such as, ambient temperature, body heat, types of bed sheet, comforter and insulation of blanket, ventilation of the room. See FAQs for more details
Technological
Breakthrough - Mattress Pad with Heating and Cooling functions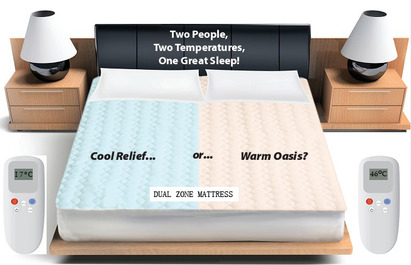 Temperature Range:

21°C to

48°C
---





Save our Environment
Sa​ve up to

90%

of your air-conditioner cost


Order yours today and start saving

90%

of your Air-Con bills
Call us:+65 66989167

Sleep

Cooler

, Sleep Better
Never ​​toss around to find
​cold spots ever​​